Team Building DC is a list of the best team building activities in Washington DC, plus corporate event ideas, company outings, company retreats, team bonding activities and more.
Our team has worked hard to compile this resource and to make it useful for HR Managers, Office Managers, Event Planners and others planning team building activities in DC. The team building events on this list range from casual bowling and high intensity escape rooms to cooking competitions and unexpected adventures in your local state park.
Team building is incredibly important when it comes to your company's bottom line. Great teams produce great work and those two things are the lifeblood of a successful company. By investing in your team's well being and happiness you're showing your employees that you appreciate the work that they do and care about both their job satisfaction and professional growth.
Note: Our list focuses on corporate team building and group activities for adults. However, if you are looking for another type of team building event then you may still find inspiration here. Our list highlights 25+ of the best team building activities, corporate event ideas, team outings, and team bonding ideas in the Washington DC, Arlington, Alexandria, Bethesda, Fairfax, Frederick, Gaithersburg, and Reston area.
Let's dive in!
Pro Tip: Press "Command + D" to bookmark this list – we update it often.
Team Building DC: Table of Contents
The Best Team Building Activities in Washington DC
This list isn't just about creating a database of all the team building activities in DC; it's about finding the best corporate events for your organization. After researching countless companies, we've narrowed our top two choices down to three: Museum Hack, The Great Guac Off, and Team Building Hero! Museum Hack has been in business since 2013 with hundreds of corporate clients and 5-star reviews. Museum Hack has worked with industry leaders like J.P. Morgan, Facebook, Google, Etsy, Spotify, Adobe, and KPMG to craft custom unconventional museum tours of the best museums in DC and across the country. The Great Guac Off is newer to the corporate team building scene, but has emerged with a fun, unique team building activity that includes food, competition and other important elements. Team Building Hero offers an extensive menu of team building activities and strives to become your company's yearly team outing event provider; we love what they do, and we think you and your team will love all of these corporate team building activities.
1. Museum Hack – ⭐⭐⭐⭐⭐ [Highest Rated]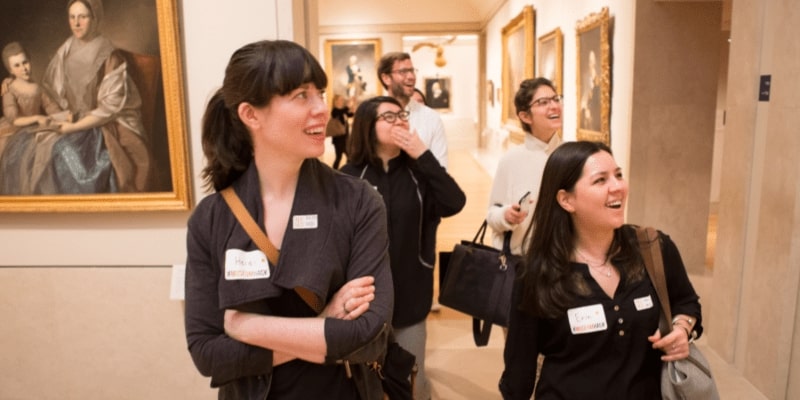 The first activity on our list of Washington DC team building activities is Museum Hack. Museum Hack is the most fun you've ever had in a museum (and probably at a corporate team building event, too!). Every Museum Hack team event is a two-hour museum tour full of sassy behind-the-scenes storytelling, epic photo challenges, and interactive activities. If you are looking for something with a competitive edge that requires you to use problem solving skills, then check out Museum Hack's Escape the Museum and custom scavenger hunts. The best part about Museum Hack's corporate team building activities is that the company can customize the tour route to match your organization's industry, mission and values. Guides can talk about extraordinary levels of service in the Roman Empire, ancient health care, tech innovations, and more! Experience the museums of Washington DC like you've never experienced any museum before, build lasting relationships with your coworkers, and have a ton of fun all at the same time.
2. The Great Guac Off – ⭐⭐⭐⭐⭐ [Best Activity with Food]
The Great Guac Off™ is part guacamole making competition and part team building activity all wrapped up into one awesome event. This theme may sound a little unusual for a team event, but Guac Off is challenging, fun, collaborative and easily one of the best corporate team building activities in Washington DC! To encourage a bit of friendly competition and team bonding, your team will be split up into smaller groups. Over the next few hours, the small teams will compete against each other to make the best guacamole in the office as well as battle it out in mini challenges like avocado-themed trivia. The Great Guac Off can be hosted anywhere, including at your office or one of Guac Off's rental locations around DC. There is no limit to the number of people you can have at this fun corporate event, so it is a good match if you are planning team building for large groups.
3. Team Building Hero – ⭐⭐⭐⭐⭐ [Multiple Activities]
With a variety of fun corporate event ideas and reasonable pricing, it's no surprise that Team Building Hero ranks in the top three of best team building companies in DC. Team Building Hero offers everything from scavenger hunts to museum tours to food making competitions to storytelling workshops to company holiday parties. Bonus: Select Team Building Hero as your annual provider of fun team events and you'll receive a discount on your event package.
Unusual Team Activities in Washington DC
What does the company that has done every conventional team building activity do next? They choose from our list of unusual team building activities in Washington DC! We're confident there's an event or two on the list below that your office hasn't participated in yet.
4. Zoo Hack
Zoo Hack is a new project by Museum Hack mentioned above. Zoo Hack's one-of-a-kind take on exploring Washington DC's zoos is smart, quirky, fun, and perfect for team building events! Full of carefully crafted icebreakers, games and activities, Zoo Hack's tours are guaranteed to maximize your team's engagement, communication and bonding. Bonus: Zoo Hack's team building activities are educational; your team will learn wild and crazy facts about the animals and their habitats. Zoo Hack's corporate tours are also very customizable to your team's industry and needs. Zoo Hack's expert guides will work closely with you to create a team event and tour content that is perfectly matched for your group.
5. Gingerbread Wars
Whether it's the holiday season, or maybe you're reading this in April, we think it's time to consider your next company holiday party. Gingerbread Wars is a holiday team building activity that will take your annual holiday party to the next level. Gingerbread Wars' elves will host holiday-themed games and challenges and lead your team into an epic gingerbread house making battle that will crown the gingerbread champion of your office. Be warned: Gingerbread Wars only accepts bookings from October through December (though the elves answer the phone year-round), so it's best to book your holiday team outing as soon as possible. Snacks, catering, and BYOB are all available with this great holiday package. Prices are reasonable. We recommend contacting the company soon because we expect Gingerbread Wars' availability to sell out.
6. Host A Meetup
Meetup events are a great way to not only promote your brand but show your community how much you appreciate them. Planning a meetup isn't as hard or daunting as it may seem. You can start by choosing a location in DC, which could be anywhere from your office to a local park to a cafe or bar. Once that location is set, plan a few engaging activities for attendees like a small scavenger hunt, photo challenge, or a bingo card with clues to complete during the corporate event. Finally, invite your team, customers, vendors, suppliers, and local community to the meetup. If you need help planning your team event, then don't hesitate to reach out to us!
7. US National Arboretum
If you are looking for DIY fun corporate event ideas, then check out your local state parks and hiking trails. The US National Arboretum located in Northeast Washington, DC, with entrances on New York Avenue and R Street, is a great place to hold an active and outdoor team outing. With 446 acres and almost 10 miles of winding roadways there's a lot of space to explore and a lot of team building to do! Make sure to check out the following locations within the US National Arboretum while you're there with your team: the Asian Collections, Fern Valley, Friendship Garden, National Capitol Columns, and National Herb Garden.
8. Sky Meadows State Park
Sky Meadows Park is another one of the company outing ideas for teams who want to build their own adventure. Get out of the office, breathe in the fresh air, stretch your legs and enjoy some active quality time for your team event. Sky Meadows is 1,860-acres of scenic views, woodlands and rolling pastures. This state park is also a historic farm and holds nature and history programs year-round. With 10.5 miles of bridle trails, 22 miles of hiking trails, nine miles of bike trails, and Appalachian Trail access, Sky Meadows is a great place to go to enjoy a hike and picnic day with your team away from the office.
9. Trash Challenge
If your team likes doing charity team building activities then take one trash challenges. This is a DIY team event where you find a park or other community space that has a lot of litter and then help clean it up. You can take before and after photos of your team posing with the trash, which will probably be popular when you share it on the internet. This challenge is an idea for your team to connect and help the community at the same time.
10. Common Good City Farm
Common Good City Farm is an organization in Washington DC that allows individuals and groups to volunteer on the farm during the growing season. As volunteers, your team will participate in farm tasks such as planting, harvesting, weeding, and composting, which are surprisingly synonymous with activities you do at the office. During your event, you will also learn about and discuss at length sustainable agriculture and the food system. In addition to being a great team bonding experience, partnering with Common Good City Farm is a meaningful way to contribute towards urban agriculture and healthy food access in Washington DC. Throughout the season (March – November), Common Good City Farms hosts volunteer groups of up to 15 people for two-to-three hour sessions.
11. Go Ape
If you've ever wanted to fly through the air with the greatest of ease then you need to check out Go Ape. Go Ape facilitates two-to-three hour team building adventures through the forest canopy. You and your team will overcome obstacles, explore the world from a new perspective, and fly around on multiple zip lines from varying heights. While flying through the trees and completing more than 40 difficult obstacles, you'll achieve maximum team bonding by overcoming fear and supporting each other through difficult situations. By the end of your adventure, your group will share a deep sense of camaraderie and accomplishment.
12. River and Trail Outfitters
River and Trail Outfitters offers team building activities and corporate events for companies in the Baltimore, Maryland, Washington DC, and Northern Virginia area. All team events can be customized to your needs and desired level of physical activity. Programs range from low impact, on the ground team activities to more difficult challenges on their rock climbing wall and all the way up to whitewater rafting. Half day team events and full eight hour day programs are available for your next team outing.
Fun Team Building Events in DC
At Team Building DC, we believe that team building must be fun for it to be truly effective. All of the team events and company outing ideas below will, at minimum, get your team members having a good time together. These fun team building activities will pack a large punch when it comes to boosting morale and communication back at the office.
13. AdVenture Games Inc.
If you know your team needs to focus on a specific goal or skill during your team building activity, then AdVenture Games Inc. has you covered. With a variety of team event ideas, each focused on a different theme, you'll find a good fit for your team's needs. A few examples of the fun group activities for adults include Strategy and Leadership (an event for high level executive and competitive sales teams), Creative and Visionary (an event for teams with a creative and theatrical flare), Puzzle and Solution (an event for improving your team's communication and problem solving skills), and Active and Performance (an event for groups who love to play). If you need your team event to be even more custom, then AdVenture Games Inc. offers a "build your own adventure" option where you and your team get to create something unique for your next company outing.
14. Escape Room Live
Escape Room Live is home to immersive and fun corporate events in Washington DC. At Escape Room Live, the staff believes escape rooms offer teams the opportunity to improve leadership skills, outside the box thinking, and group problem solving skills. Overall, a team escape room experience brings everyone together for team bonding because employees can't complete the escape alone. Escape Room Live currently has four team building escape rooms: Pirates Curse, Curse of the Mummy, Titanic, and The Cabin.
15. Labyrinth Games and Puzzles
Plan a team game night at Labyrinth Games and Puzzles, a community-focused store featuring pretty much any game you could imagine. Labyrinth is another fun and low cost alternative to more extravagant team building events. Every Thursday evening from 6-10pm, Labyrinth Games and Puzzles hosts an open game night. With over 500 games to choose from and seating for 50, Labyrinth may be a good spot for your next team outing. Whether you are a small team and head over after work to play a few favorite games or work with Labyrinth to organize a private gaming corporate event, it is a fun option for team building in Washington DC. Check out some of the types of games you'll find at Labyrinth: educational games, board games, chess and strategy games, party games, role-playing games, collectible card games, and more.
16. District Winery
Who doesn't enjoy a delicious glass of red or white wine pretty much any day of the week? Check out District Winery for your next company outing. District Winery offers a few different corporate event packages to enhance your next team event, which include a blending session, wine games, or true wine detective.
17. The Great Escape Room
The Great Escape Room creates an environment for everyone on your team to shine and work together. Using individual and combined skills, your team will solve clues and complete challenges hidden throughout the room in order to ultimately escape. Escape rooms require good listening and communication skills as well as open mindedness and flexibility to reach your goal as a team. The Great Escape Room currently has four different fun activities for employees to choose from, including the Sherlock Holmes Library, On the Run, The President's Bunker, and Professor Moriarty's Game Room.
18. EKGameTime
EKGameTime is about play and would make a good addition to your next company off-site or provide a fun and engaging way to break up a day of conferences. EKGameTime's events are mobile and can be set up in either an outdoor or indoor space. Depending on the activity and number of participants, staff will need anywhere from a half basketball court up to an entire football field to set up the corporate team building activities. EKGameTime provides a few different gaming options for corporate events that promote strategic thinking in a fun and relaxed environment. All skill levels can play any of the top three fun activities for employees, which include laser tag, bubble soccer, and archery tag.
19. Pedal Saloon
Pedal Saloon offers you and your team a cool chance to combine team building, exercise, and, best of all, a drink! Pedal Saloon's team event is good for small teams, as you need at least eight to book a tour and, at most, the bike can accommodate 14. You and your team will spend the afternoon group pedalling around Arlington, Virginia, chatting, and taking in the sights. On this two-hour tour, you will enjoy quality time outside the office and stop in at a few of Arlington's best establishments. Note: As Virginia law prohibits drinking alcohol on the pedal bar, you'll be using it as a fun and unique way to get from bar to bar, and as extra team bonding time.
20. Bowlmor Lanes
When is the last time you went bowling? Why do we ask? Because bowling makes for a fun team building event. Bowling is familiar, nostalgic, and we'll bet most everyone on your team already knows how to play. A trip to your local bowling alley is just the right amount of competition and fun for any team outing. Bowlmor Lanes also offers fun arcade games, craft beer, and snacks to keep the good times rolling. If you want to make your team outing more than just a casual after work hang, then Bowlmor Lanes also offers corporate event packages. Get in touch with Bowlmor's team to plan a fun team building activity for your next company outing.
21. ArtJamz
ArtJamz has everything you need for a creative team building activity including studio access, paints, art materials, easel and smock rental, canvas, drinks, and catering. ArtJamz also offers classes and guidance from local artists. Check out ArtJamz's different options for company outing ideas, ranging from Freestyle, where guests can do individual creative time to Guided Classes, where you can choose to have your team learn a specific technique, genre, or artist style. ArtJamz also holds special corporate events your team can participate in like the New Year's Eve Glitter Ball, MLK "Painting For Peace" Sessions, Valentine's Day, Mardi Gras Masks, Mother's Day, Día de Muertos, Winter Landscapes, and more.
22. DC Fray
DC Fray is all about fun and play. The DC Fray staff believes "that play has the power to transform lives, build communities, and create a positive impact in the world." DC Fray hosts and plans a variety of games and team building activities to promote health and wellness in people, teams and companies all over Washington DC. DC Fray's corporate events can accommodate almost any size team, from five to 500 (so it may be a good option for team building for large groups). Organizing an event with DC Fray is as simple as choosing your games (the DC Fray staff will organize the rest). Here are a few examples of corporate events the company offers: Team Field Days, League Teams, and On-Site Bar Game Tournaments. DC Fray also offers custom team events.
Team Building Scavenger Hunts in Washington DC
Have you considered team building scavenger hunts for your next corporate event in Washington DC? Below, we've gathered some company outing ideas for you to choose from. Scavenger hunts are easily facilitated, a lot of fun, and boost communication, collaboration, and friendly competition.
23. Scavenger Hunt DC
Scavenger Hunt DC designs and hosts corporate team building activities. Even though Scavenger Hunt DC specializes in scavenger hunts, team events range from simple activities to full on strategic operations. Scavenger Hunt DC activities add an element of fun and play to any type of corporate event from team off-sites to weekend retreats. Team building scavenger hunts focus on activities that will improve your team's communication, collaboration and overall leadership skills. During the company event, your team is accomplishing tasks and earning points, but participants can also lose points making it anyone's game at any time! Scavenger Hunts DC incorporates mobile technology that displays real time scores, adding a highly competitive edge to the scavenger hunts.
DC Team Building Activities With Food
Team building activities with food — need we say more? Everyone loves a good meal, so why not choose a team event that includes food for your next team outing? Below are some of our favorite company outing ideas with food, ranging from competitive guacamole to cooking classes.
24. The Great Guac Off™
The Great Guac Off is a corporate team building activity based on a guacamole making competition. Your package includes everything you need for a successful team event, including a fun host, smart games, food, prizes and more. The Great Guac Off can run the guac competition at your office or conference center or at a rental location around the city. You can add catering, snacks, BYOB, gift bags and other options to your event too.
25. CulinAerie
CulinAerie is an option for teams who would rather spend a few hours enjoying team bonding over new recipes and learning kitchen techniques than spending an hour in a high-intensity escape room. Whether collaborating or competing, CulinAerie is happy to host teams from 12 to 48 in a private kitchen in downtown Washington DC. Each team package includes food and drink, so after your cooking class, you'll get the opportunity to sit around a table, chat and share a meal together. Choose from one of two corporate group packages (team bonding or amateur cooking competition) depending on the level of game and competition you'd like to incorporate into your company outing.
26. Yogurt Party
Chances are pretty good that nearly everyone on your team loves yogurt. Start off the day with a fun team building activity at the office that includes a yogurt bowl with custom toppings. If you want to make the experience more interactive then you can do mini-challenges to earn toppings. The most important part of this team event is that everyone gets a little more cultured. By the way, coconut, walnuts and mango are all great yogurt toppings. You should probably go with Greek yogurt because it is trendy and arguably healthier, and take lots of photos to share on your website or with your team.
Final Thoughts
What do you think? Did you find a team building activity your team would both enjoy and benefit from? We definitely hope you did! On the off chance you've read this list and still need a little guidance we'd be happy to help! Drop us a line at [email protected] to chat about team building activities in the Washington DC, Arlington, Alexandria, Bethesda, Fairfax, Frederick, Gaithersburg, Reston area.
Remember, when done right, team building activities will result in overall stronger teams with improved communication and collaboration skills. Don't wait! Let's start planning your team's awesome event today.
Team Building Washington DC: Frequently Asked Questions
What is the best team building activity in Washington DC?
Washington DC is home to many great team building events, but the best team building activity in DC is Museum Hack. Visit the National Gallery of Art or National Portrait Gallery like never before. Your employees will laugh, learn, and have their minds blown by the incredible, sometimes scandalous, stories about the art. Plus, there are games, photo challenges, and activities designed for maximum team bonding.
How do I choose between a scavenger hunt or a corporate event with food?
If you can't combine the two into an epic day of corporate team building, then we'd recommend choosing a collaborative event with food, since knowing they'll enjoy a good meal means your employees will probably be more open-minded to a team outing. We'd suggest The Great Guac Off since it combines a challenging guac making competition (collaboration, communication, and creative thinking and three main team building ingredients) with enjoying some great food and drinks.
Why should I hire a team building company?
There are some great DIY team building activities out there and they can work well. We recommend hiring the pros to ensure maximum bonding and desired outcomes.